I thought I would pop on here to give a quick update. No, I've not fallen off the face of the earth. I guess I've just been extra busy trying to get this new home in order and all that goes along with that! I have so many things that I want to write and update about that I've even wrote it down on my list of Things to Do!
Lindsey & Sydney started preschool last week and it went really well. Even the first day, we had NO tears! I was shocked, actually. I thought for sure I would have some separation issues with Lindsey, but I guess all the talking about it ahead of time for weeks, months, years...helped. They are going to a local church school that has classes for Preschool through Grade 8. My niece, Chelsea, also goes there and the girls are so excited that they get to see her. This school is very flexible. As of right now, they are attending T-W-Th from 8-12. They really want to stay for lunch, so I may change it up after awhile.
This is what I overheard on the monitor on the first day of school. It was so cute! Sydney woke up first.
"Lindsey, Linnnndsey! Wake up. Wake UP! We get to go to SCHOOL today!"
Here are a couple pics from their first day.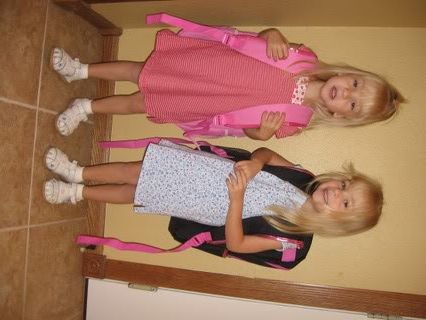 I still want to post some details on our vacation including some pictures. I also have house pictures. I hope I can get a few minutes to get those together as well. The pics I have are all of empty rooms before we moved in. The way it's going, I'll have all the after pictures ready too, by the time I get to this.
Oh, and Lindsey and Sydney have started a dance class called
Just for Kix
, so I wanted to update about that too. Keep watching for updates!
I just looked at my calendar and September and October are shaping up to be crazy busy months. We have AT LEAST one thing going every weekend, if not more, and now we're fitting in school and dance into the mix. I'm sure I'll look back on this someday and think how easy it was though.
One thing to look forward to during this hectic fall time though is a weekend away with my hubby! YAY! He will be gone to Vegas the last week of September for the SGIA show, and I am flying out on Friday for the weekend. We'll both come home on Monday. I'm VERY excited about this. We both love going to Vegas, especially hooking up with old friends.
But, even with all the stuff going on, we have made progress with unpacking and getting things in order. We finally got the girls' new twin beds (bunks, but not put up) together this weekend so they aren't sleeping on crib mattresses on the floor anymore. They LOVE them and haven't had any problem staying in them.
From Day 1 in our home, even with nothing unpacked, I've totally felt at home. It's a really good feeling. I can see us being here for a long time.