Yep, today was the start of the new school year. Since Lindsey have an October birthday, they miss the cut-off by five weeks, and thus, they have another year of preschool. Fine by me! This year, however, they are going three full days, 8:30-3 p.m. (last year they went three half days).
The public schools here don't start until after Labor day (it's the law!), but we go to a very small private Lutheran school. Lindsey and Sydney were very excited to see Mrs. P again. Being that is a small school, they have a joint preschool (ages 3-5) and one teacher. It was nice to have them excited to go and know what to expect. They were very curious when we arrived because Mrs. P rearranges the room each year, so even though it was familiar, it was also different.
We were a little rushed this morning and I forgot the school supplies. Ooops! Normally, I have very early risers...I mean, they are like clockwork 6-6:30 a.m., but today Miss Sydney decides to sleep until 7:30 a.m.!


They sure look a lot different than last year, don't they?
I can't believe how little they looked then.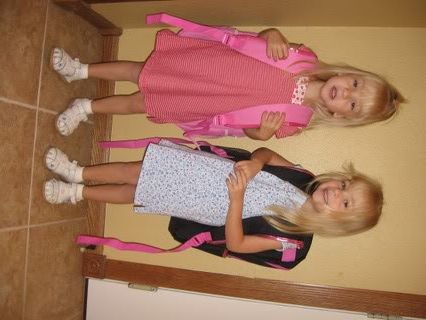 After we got to school, we had an opening service and the girls and I headed to their classroom, checked out their cubbies, gave some kisses and hugs and off I went. One of their new classmates was crying. It was her fist day in school and Lindsey told me, so matter-of-factly, that "she's crying because she wants her mom".
Later, when I picked them up, they were having a little snack out on the picnic table and they could stop talking about their day. I'm SO happy that they had such a great day! You can view of all of our first day pics
HERE.
Check them out! There's a few more cute ones!
It was quite a busy day. While the girls were in school, I went out to the shop and did a little work, paid a few bills, did payroll, etc. Our church is celebrating it's sesquicentennial (150th anniversary) in a few weeks and my mom asked if the girls would sing one verse of a song. Then she said, hey, you should sing with us too! So, I said okay. Then she informed me that we had choir practice tonight. We're singing a couple of songs, "Children of the Heavenly Father" (the one the girls will be singing) and "We Have Come This Far by Faith". I'm excited about it, and also glad that they are low. I'm an alto, but on one of the songs, I'm going to sing soprano. It ought to be interesting considering that I haven't sung in a choir since 10th grade! Practice went well though. I really have to practice the one though. People hear it if you mess up, because there are only seven of us.
THEN, while at practice, I got asked to be the Sunday School teacher for the little kids. I had sort of been thinking about it (my mom had told me they were looking for someone), so I said yes. I'll have about 5-6 girls (4-5 years old). Should be a fun time, eh?
Well, I hope you enjoyed the pics of the day. Tomorrow we are off to Lindsey's eye appointment to follow up on her Amblyopia. I'll keep you posted.
Oh, and I've been tagged for a meme. I'll be getting to that soon!